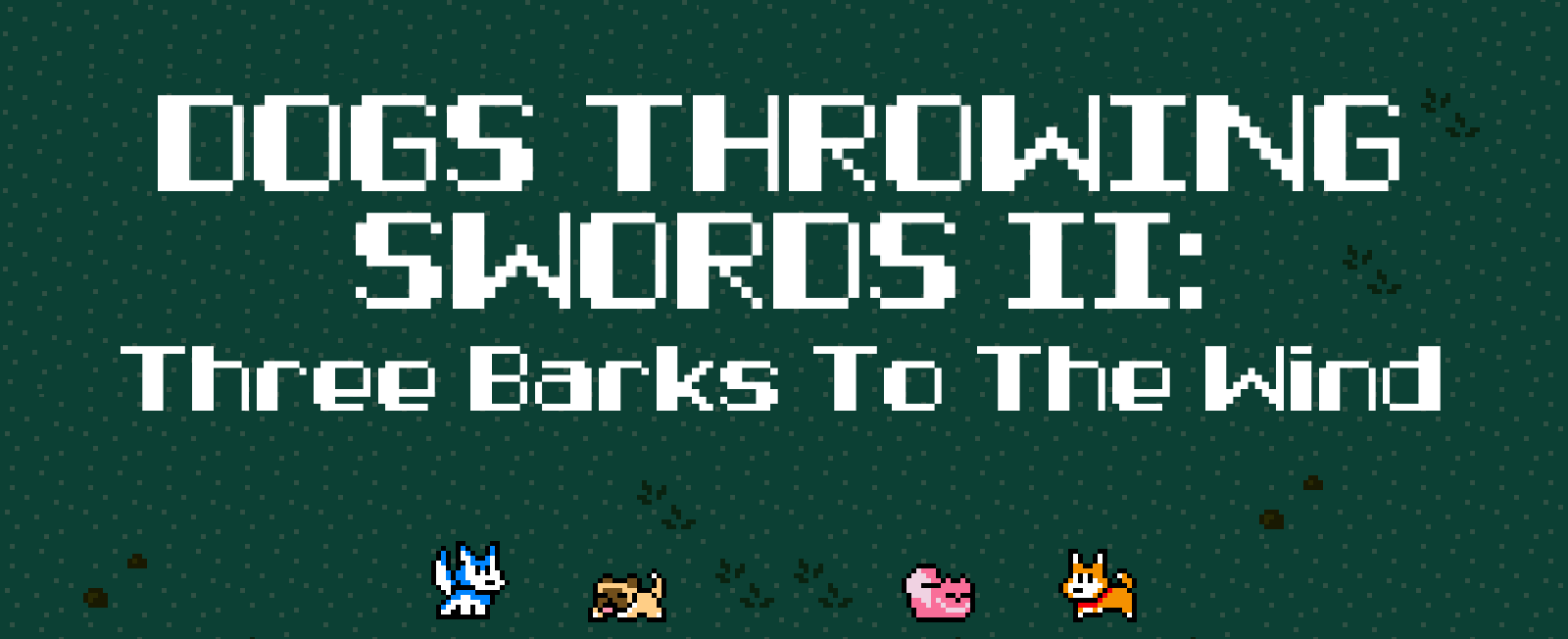 Dogs Throwing Swords II: Three Barks To The Wind
A downloadable game for Windows and macOS
DOGS THROWING SWORDS II: Three Barks To The Wind
The latest entry in the notorious "Dogs Throwing Swords" series!
The mysterious horned devil ORELIA has been causing mischief in the Dogwoods! Three heroes have been chosen to take a stand, and put an end to her tyranny.
Choose and guide a team of three dogs, and lead those best friends to victory over the devil ORELIA! Each dog has its own unique strengths. Avoid enemy attacks and maximize your firepower by SHIFTING and ROTATING your dogs. Keep them safe as long as possible, so the forest can be free for all once more!
- 4 friends to choose from: Husky, Corgi, Pug, and Pomeranian!

- 6 doggone good levels to fight through
- Dog music. I mean good music
- Each dog lovingly hand-pixeled, from nose to tail
Play Dogs Throwing Swords II today, choose a dog, and throw a sword! Now go get it! Aww, who's a good dog! You are! Yes you are!
Purchase
In order to download this game you must purchase it at or above the minimum price of $4.99 USD. You will get access to the following files:
Dogs Throwing Swords II - Windows.zip
40 MB
Dogs Throwing Swords - Mac.zip
43 MB
Comments
Log in with itch.io to leave a comment.
What a fun game! I loved playing it, thank you!
Whoa! Is this inspired by Mercenary Force? Very cool.
Thanks, and yea!! I saw a rundown of Mercenary Force on an episode of Game Boy Works and immediately wanted to riff on it :)
This is fun! A little short, but are saying that it's only 6 levels, so that's fair. :) I would love a longer one with power-ups or a show for upgrading or leveling or whatever. Do you plan to release a 3rd one?
Oh wow, thank you! I'm glad you liked it :D
This version is just the result of a local jam, so it's a bit short. After I finish my current project (BOSSGAME) I'd like to come take another look at Dogs Throwing Swords, because I think there's a lot more I could add to it! I have some ideas for an upgrade system, more levels, and the ability to take hidden/multiple routes through the world!
Really cute game! I have a corgi myself so I had to main it in the game. The pixel art has a lot of characters and shmups are my jam so I enjoyed playing this!
Ahh, thank you! I'm really glad you liked it, I've wanted to try making a shmup for a long time. I grew up with a corgi mix, too, so I couldn't resist adding one :D
I just _barely_ managed to survive the entire game. Never really was a big fan of shmups but the colors, the levels, music, and the little traps were a fun twist for me. Good stuff uwu
Ahh, thanks! Yea, I'm not actually the best at shmups myself, but I'm glad you had fun! I definitely enjoyed adding a more colorful & playful vibe :)